12 Things To Do While Waiting For Your Phone Repair In Warsaw
Phone Repair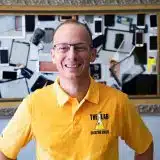 Posted by: Lyle Schrock 8 months ago
Most of the simple phone repairs we handle for our customers are completed in less than 3 hours. While you're absolutely free to drop off your phone and head home, have you considered spending a few hours exploring downtown Warsaw while you wait?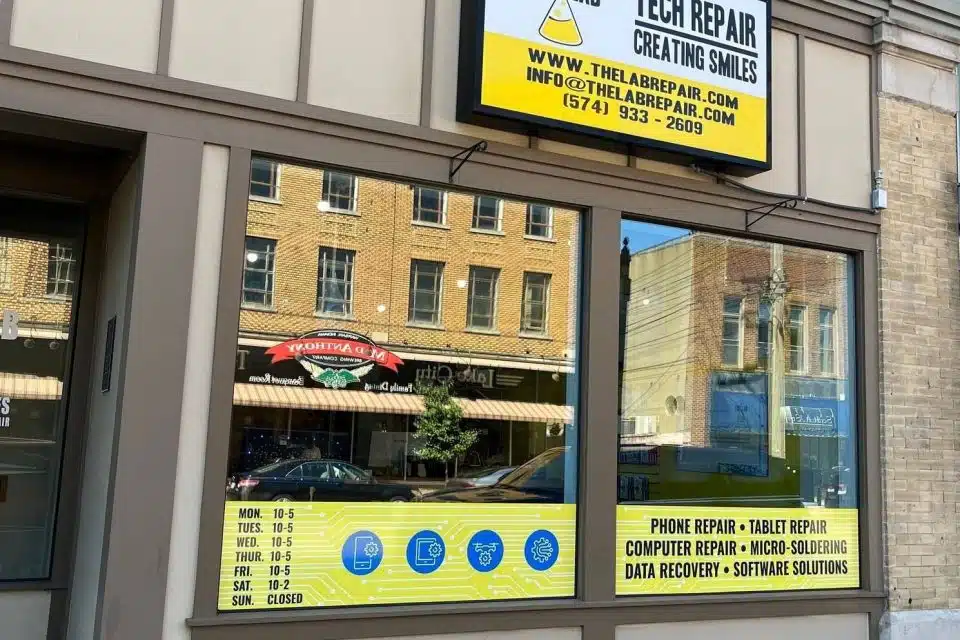 We're only a few blocks away from Center Lake, not to mention our downtown Warsaw neighbors include one-of-a-kind boutiques, restaurants, fitness studios, and more!
Get A Bite To Eat
There is no shortage of delicious restaurants to enjoy downtown, so we thought we'd share a few of our favorites! We're open M-F from 10am – 5pm and on Saturdays until 2pm, so these are our favorite lunch (and even brunch!) spots.
Downtown Eatery & Spirits
The Downtown opens at 11am and has earned its local reputation as a favorite lunch spot. Shareables, salads, soups, burgers, sandwiches…they have an option for everyone to enjoy.
Rua
While Rua isn't open for lunch hours during the week, you can't do much better for brunch on a Saturday! If you're getting your phone repaired on the weekend, make a reservation at Rua. We recommend the chicken & waffles.
Mad Anthony's Lake City Tap House
Mad Anthony's is literally right across the street from The Lab and at the top of our list of favorite lunch spots, or even a relaxing spot to enjoy a drink and an appetizer in the afternoon.
Mi Lindo Acapulco
Fast service and delicious Mexican food make Mi Lindo Acapulco a local favorite. Drop your device at The Lab and then head over to enjoy your favorite Mexican dishes.
Biryani Kitchen
You can often find one of our staff members (or more) enjoying the lunch buffet at Biryani Kitchen. It has quickly become a favorite downtown thanks to its flavorful Indian cuisine.
Go Shopping
Downtown Warsaw has no shortage of one-of-a-kind shops and boutiques. Why not take a leisurely stroll downtown and see what you can find?
Elysian Co.
Apparel, home goods, and gifts can be found a few doors down from The Lab at Elysian. This bright, welcoming, modern boutique has quickly become a local favorite!
Brooch Boutique
Comfortable, affordable clothing and accessories highlighting the latest trends are right across the street from our Center St. location in downtown Warsaw at Brooch Boutique.
Glam
Upscale fashion and accessories are just a few blocks away at Glam. You might be familiar with Glam thanks to their annual gala, but have you checked out their store yet?
Pamper Yourself
Did you know downtown Warsaw is the home to a spa, massage therapists, hair salon, fitness studio, and salt cave? No matter how you choose to relax while your phone is repaired, why not refresh your mind and body while you wait for your repair to be complete?
Infinity Salon
Get your hair cut and styled at one of our local salons that highlights inner and outer beauty. Located just a short walk from The Lab on Buffalo St., getting your hair cut at Infinity Salon while you wait for your repair to be complete is the best way to multitask!
Mirabilia Massage
This is our favorite place to go to relax…and not just because it is located literally upstairs from The Lab. Mirabilia provides Swedish, therapeutic, and deep tissue massage.
Expressions Day Spa
Want a little more pampering in your day? Schedule a spa treatment at Expressions to completely relax while we repair your phone. They offer everything from massages to pedicures, skincare treatments, and barber services. Their walk-in appointments are limited, so make sure to schedule ahead of time.
Giverny Fitness Studio
Drop off your phone with us for a repair before your workout at Giverny! The studio offers a variety of daytime classes and training sessions including toning and strengthening, dance cardio, yoga, and more.
The Cave On The Square
Ever spent time relaxing in a salt cave? You can try it right downtown! The Cave on the Square offers a therapeutic Himalayan Salt Room and infrared sauna. Spend an hour relaxing in a soothing atmosphere while your phone gets repaired at The Lab.
Drop Your Phone Off At The Lab
Whether you dropped your phone and cracked the screen, need a new battery, or can't figure out why your phone is running so slowly, we're here to help!
Stop by during business hours Monday-Saturday or click below to schedule your repair appointment ahead of time.